Shawtywig Hairstylist: How to Find the Perfect Style Wig for Your Face Shape?
When it comes to picking a wig, your face shape is one of the most important factors to consider. So, instead of opting for the latest trend, try selecting a style that suits your face shape instead.
Which face shape are you?What's your biggest challenge with your face shape?
Figuring out your face shape sounds a lot easier than it actually is.Whether your face is a rectangle, oval, square, circle, triangle, heart or diamond, the right cut will expertly frame and balance it while showcasing your best features for a flattering and complementary appearance.
What is My Face Shape? Before you can find your most flattering hairstyle, you need to identify what your face shape is. To do so, try taking a photo of yourself facing the camera with your hair tied back. Then, trace around the outside of your face and see which shape it most closely resembles. Alternatively, you can try measuring your face, focusing on the widths of your brow, cheekbones and jawline, and the length of your face from forehead to chin, to find its proportions. By doing so, you should be able to see which shape your best match is. For example, if your face is the same length and width, it is likely either square or round. Or, if your face becomes wider from the forehead to the jawline, it's probably a triangle shape.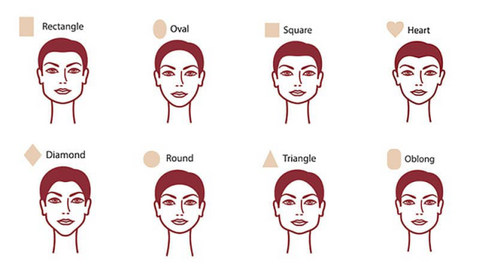 Here's Shawtywig hairstylist's guide to finding the best haircuts for your face shape.
Rectang

le

: 

Layered cuts, waves or curls, soft and romantic chignons, rounded fringes or curtain bangs

Oval

: Blunt bobs and lobs with subtle layers, long waves or curls

Square: 

Side-parted styles, long and airy layers, short layered bobs, side-swept bangs

Heart: 

Long side-swept cuts, waves or curls starting below the ear, side-parted pixies, bobs and lobs

Diamond

: Mid or long layered cuts worn with tousled waves, deep side parts, chin-length bobs, ponytails

Round

: Long layered cuts, choppy pixie cuts, short side bangs

Triangle

: Layers that finish at the eyes/cheekbones or collarbone, choppy pixie cuts, short side bangs
Shawtywig stylists will recommend the physical wig for your face shape in a future article. Stay tuned all ladies!